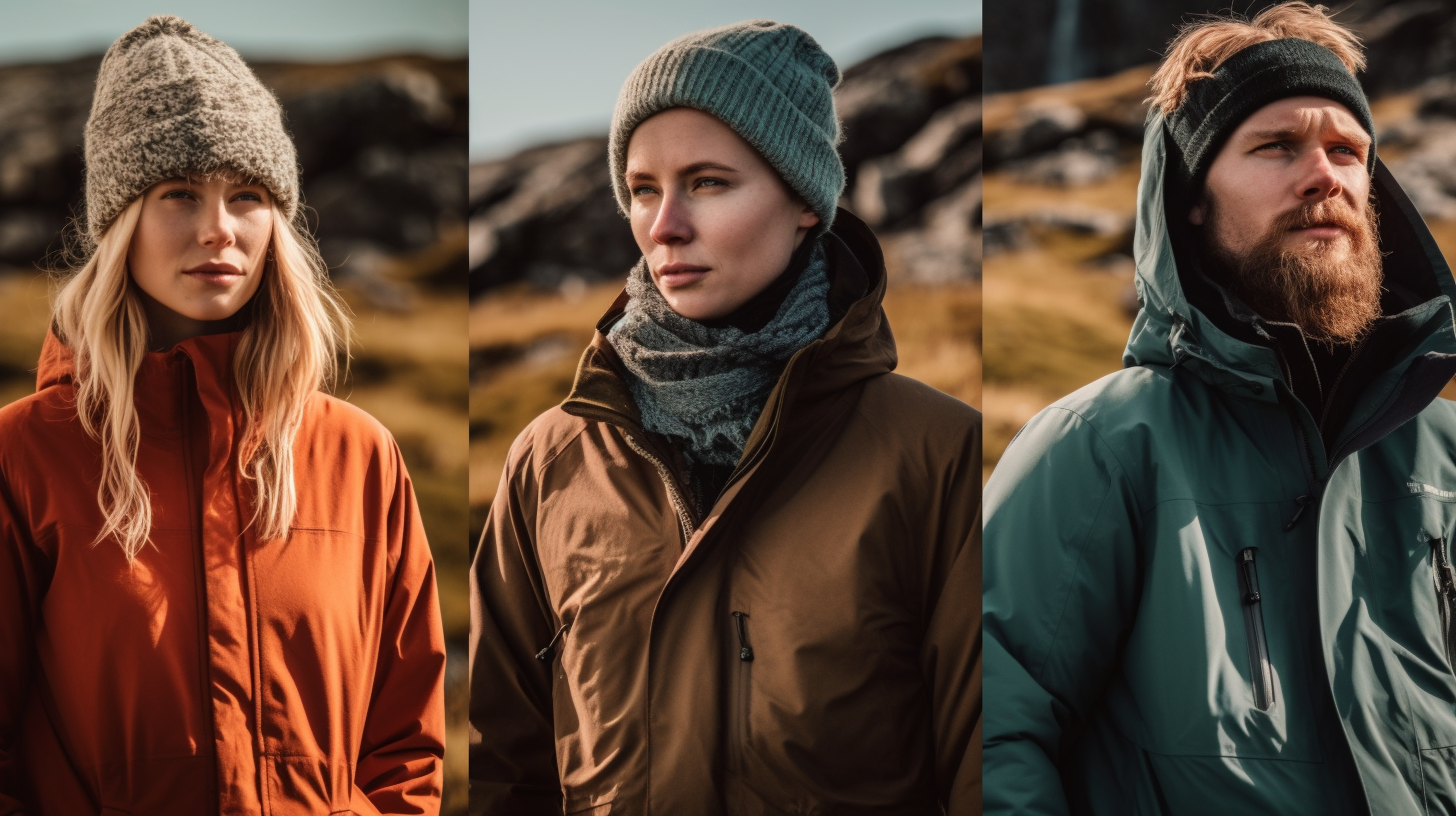 When you're planning a trip to Iceland, one of the first questions you'll likely ask is, "What should I wear?" With its varying climate and array of outdoor activities always easy to answer. To assist you in packing the right apparel, let's break it down by season, suggesting suitable clothing options and highlighting some local Icelandic stores where you can supplement your wardrobe.
Spring (March – May)
Spring in Iceland brings unpredictable weather, with average temperatures ranging from 3 to 7 degrees Celsius. You might encounter anything from sunny skies to sudden snow showers. Layers are key here.
Start with a thermal base layer, such as merino wool leggings and long-sleeved top. Layer a fleece jacket or a warm sweater over this, followed by a waterproof and windproof outer layer. It's also smart to pack a pair of waterproof pants. For footwear, bring waterproof hiking boots with good grip to tackle any terrain and weather.
Don't forget your accessories: a beanie, scarf, and gloves are essential. Also, bring sunglasses to protect your eyes from spring's longer daylight hours, and consider a pair of microspikes for your shoes if you're planning on hiking.
Outdoor activities such as ice caving or whale watching require additional gear. For ice caving, the equipment will be provided, but wear your warmest layers. For whale watching, companies usually provide overalls, but you should still dress warmly underneath.
Local stores like 66°North and Cintamani offer a great selection of high-quality outdoor clothing suitable for Icelandic spring.
Summer (June – August)
Summers in Iceland are cool, with temperatures varying between 10 and 15 degrees Celsius. While the weather is relatively mild, it can change quickly, so continue to dress in layers.
A light base layer is still recommended, but your middle layer can be lighter – a thin fleece or sweater will usually suffice. The outer layer should still be waterproof and windproof, as rain can come at any time. Consider breathable materials to ensure comfort during hikes or other outdoor activities.
Footwear should still be sturdy, waterproof hiking boots. As for accessories, pack lightweight gloves, a beanie, and a sun hat. Don't forget your sunglasses, as this is the season of the midnight sun!
Summer is the ideal time for horseback riding, hot spring hopping, and glacier hiking. Remember to bring a swimsuit for those geothermal pools and hot springs.
Check out the offerings at Icewear or Zo-on for a range of summer-appropriate gear.
Autumn (September – November)
Autumn is similar to spring, with fluctuating weather patterns and temperatures that can drop below freezing. Your spring wardrobe will serve you well here, but include a heavier middle layer for extra warmth.
Footwear should once again be waterproof with good traction, as the terrain can be slippery. Pack a warm hat, gloves, and a scarf. If you're interested in seeing the Northern Lights, you'll want your warmest layers, as stargazing means standing still in the cold.
Popular autumn activities include exploring the Golden Circle and hiking in national parks. For these, you'll want comfortable, weather-appropriate clothing and good hiking boots.
Try shops like Fjallakofinn or revisit 66°North for autumn-appropriate outdoor wear.
Winter (December – February)
Winter is the coldest season in Iceland, with temperatures often dropping below freezing. Dressing warmly is essential.
For your base layer, opt for thermal clothing made of materials like merino wool. Your mid-layer should be a thick fleece or a down jacket, followed by a waterproof and windproof outer layer. Consider insulated winter pants or thermal leggings under waterproof pants.
Footwear should be insulated, waterproof boots with a good grip for icy surfaces. Don't forget thermal socks. For accessories, pack a warm hat, thermal gloves, and a neck gaiter
or a thick scarf. Since daylight is limited, a headlamp can be useful if you plan on doing some exploring.
Winter activities in Iceland include skiing, snowmobiling, and viewing the Northern Lights. For snowmobiling and skiing, you'll want to add snow goggles to your packing list. Tour operators often provide overalls and helmets, but you should still wear your warm layers underneath.
Globus and Ellingsen are excellent shops to visit for winter wear in Iceland. They have a range of outdoor clothing, including thermal layers, winter jackets, hats, gloves, and scarves.
Essential Packing List:
Base layers: thermal leggings and long-sleeved tops.
Middle layers: fleece jackets or sweaters (light to heavy depending on the season).
Outer layer: waterproof and windproof jacket and pants.
Footwear: waterproof hiking boots with a good grip; insulated boots for winter.
Accessories: hat, gloves, scarf, sunglasses, swimsuit, headlamp.
Additional gear: microspikes for spring hiking, sun hat for summer, and snow goggles for winter activities.
Icelandic Outdoor Clothing Stores:
66°North: A historic brand offering high-quality clothing suitable for any season.
Cintamani: Known for its stylish yet practical outerwear.
Icewear: Great for summer layers and rainproof outerwear.
Regatta Great Outdoors : Offers a range of waterproof and insulated outdoor clothing at great prices.
In conclusion, when packing for Iceland, remember to prioritize practicality over fashion. The weather can change quickly and dramatically, making layers and waterproof clothing your best friends. By packing wisely and supplementing your wardrobe with local Icelandic brands, you can enjoy all the natural beauty and outdoor adventures Iceland has to offer in comfort and style.