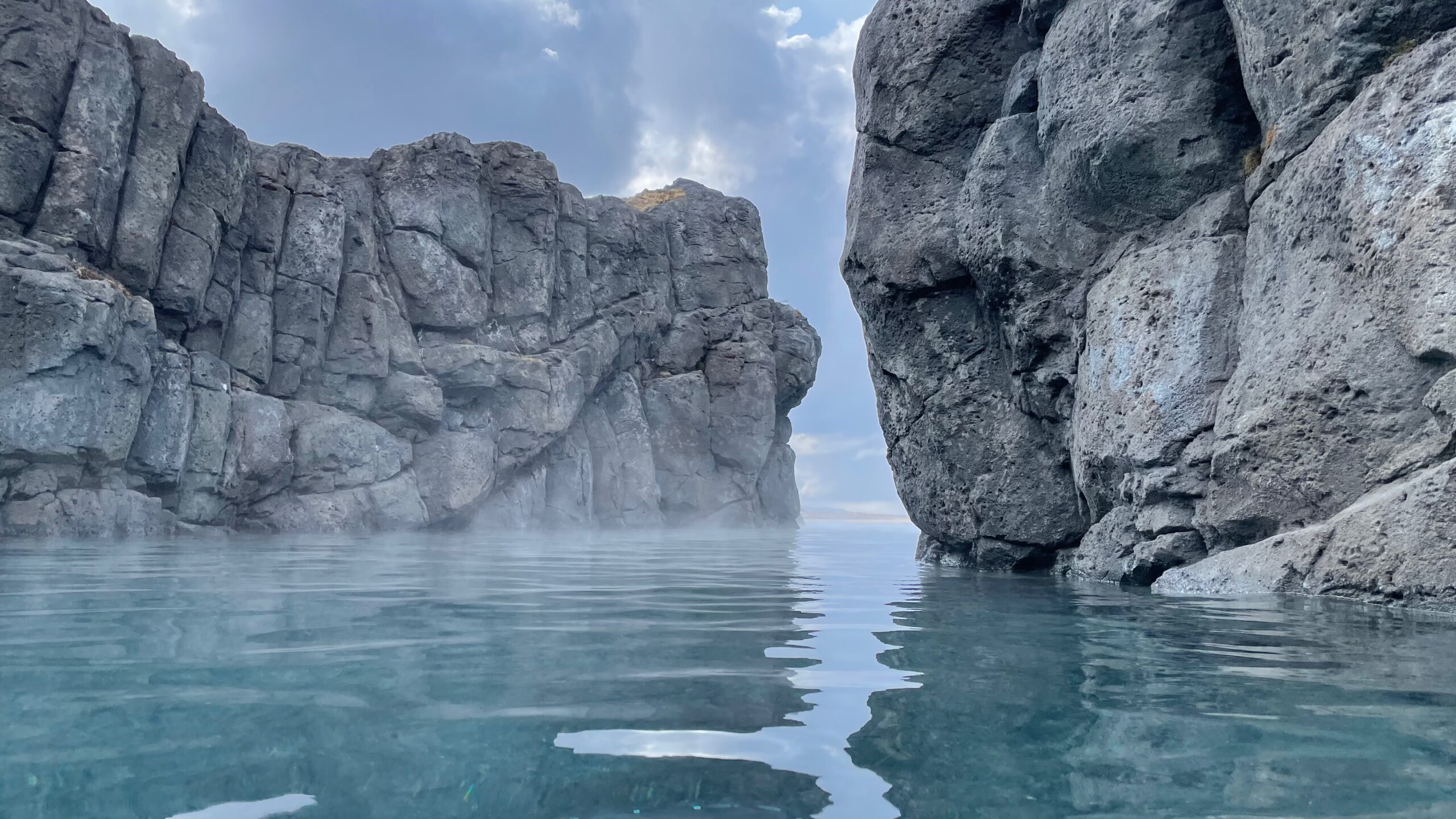 If you're planning a trip to Iceland and seeking an extraordinary geothermal experience, look no further than the captivating Sky Lagoon. Situated along Iceland's southwestern coast, this newly opened oasis offers a perfect blend of stunning natural surroundings, therapeutic geothermal waters, and a truly immersive atmosphere. In this article, we'll highlight the unique features that make Sky Lagoon the ultimate choice for travelers seeking an unforgettable geothermal adventure.
Our favorite time to visit is 16:00/4pm, when the sun is low in the sky. It seems more peaceful. If you're only planning on going once, get the upgraded 7 Step Ritual admission. Get the entry level admission for future visits. Enjoy!
Awe-Inspiring Setting:
Prepare to be mesmerized by the breathtaking setting of Sky Lagoon. Located just a short distance from Reykjavik, Iceland's vibrant capital city, this coastal oasis offers panoramic views of the North Atlantic Ocean. Immerse yourself in the warm geothermal waters and let the enchanting surroundings of rugged cliffs and endless sea create a sense of tranquility and wonder that will stay with you forever.
Therapeutic Geothermal Bliss:
Sky Lagoon promises a truly rejuvenating experience as you soak in its geothermal waters. The warm pools are infused with minerals and natural elements, renowned for their therapeutic benefits. Surrender to the soothing embrace of these healing waters, and feel your stress and tension melt away. The geothermal bliss at Sky Lagoon will leave you refreshed, revitalized, and ready to embrace the wonders of Iceland.
Unmatched Design and Atmosphere:
Step into a world of exquisite design and ambiance at Sky Lagoon. The architecture flawlessly blends modern aesthetics with traditional Icelandic elements, creating an atmosphere that harmonizes with the surrounding natural beauty. As you luxuriate in the pools, you'll appreciate the thoughtfully crafted wooden deck and stone structures that seamlessly blend with the environment, enhancing your connection with nature.
Infinity Pool and Mesmerizing Views:
Prepare to be captivated by the breathtaking infinity pool at Sky Lagoon. As you indulge in the warm waters, you'll be treated to awe-inspiring views that seemingly stretch to the horizon, where the Atlantic Ocean meets the sky. Immerse yourself in this unique geothermal oasis and witness the ever-changing skies, be it the vibrant hues of the midnight sun or the enchanting dance of the Northern Lights. These unforgettable vistas provide an unparalleled backdrop to your geothermal experience.
Exquisite Rituals and Unforgettable Wellness:
Sky Lagoon offers an array of exclusive rituals and wellness experiences designed to elevate your visit. Don't miss the "Sky Body Experience," a rejuvenating journey that combines the therapeutic geothermal waters with traditional Icelandic skincare practices. From invigorating exfoliation with natural salts to indulgent mineral-rich silica masks, these rituals will leave you feeling refreshed, rejuvenated, and deeply connected to the Icelandic traditions of well-being.
Serenity and Relaxation:
Sky Lagoon is more than just a geothermal pool—it's a sanctuary of serenity and relaxation. Enhance your well-being by immersing yourself in the steam rooms, saunas, and cold plunge pools. These facilities provide additional therapeutic benefits and allow you to customize your wellness journey. Surrender to the skilled hands of experienced therapists and indulge in luxurious spa treatments inspired by Iceland's natural resources, leaving you in a state of pure bliss.
Culinary Delights Amidst Natural Splendor:
At Sky Lagoon, culinary delights await you in a setting of unparalleled beauty. Treat your taste buds to a culinary journey at the Sky Café and the Lagoon Bar. Delight in the flavors of locally sourced ingredients and savor traditional Icelandic delicacies, all while enjoying the stunning vistas that surround you. The gastronomic offerings perfectly complement the overall experience, ensuring a feast for your senses.
Commitment to Environmental Sustainability:
Sky Lagoon is dedicated to preserving Iceland's pristine environment and promoting sustainable tourism practices. By choosing to visit Sky Lagoon, you can be assured that your geothermal adventure aligns with your eco-conscious values. The facility prioritizes renewable energy sources, minimizing its carbon footprint and contributing to the preservation of Iceland's natural beauty for future generations to enjoy.
Conclusion:
If you're searching for the ultimate geothermal spring experience in Iceland, look no further than the captivating Sky Lagoon. With its awe-inspiring setting, therapeutic geothermal waters, unmatched design and ambiance, mesmerizing infinity pool, exclusive rituals and wellness offerings, serene atmosphere, culinary delights, and commitment to environmental sustainability, Sky Lagoon emerges as the top choice for discerning travelers seeking an unforgettable geothermal oasis. Prepare to immerse yourself in a world of natural wonders, relaxation, and rejuvenation that will leave you with cherished memories of your Icelandic adventure. Don't miss the opportunity to embark on this extraordinary journey at Sky Lagoon—it's an experience like no other.